CANADA'S OCEAN PLAYGROUND
Handcrafted apparel & accessories sustainably remade from sails, etc. in the iconic sailing community of Chester, Nova Scotia.
Helly Hansen Chester Race Week Donor
i420 Canadian Championships Donor
29er Provincial Championships Donor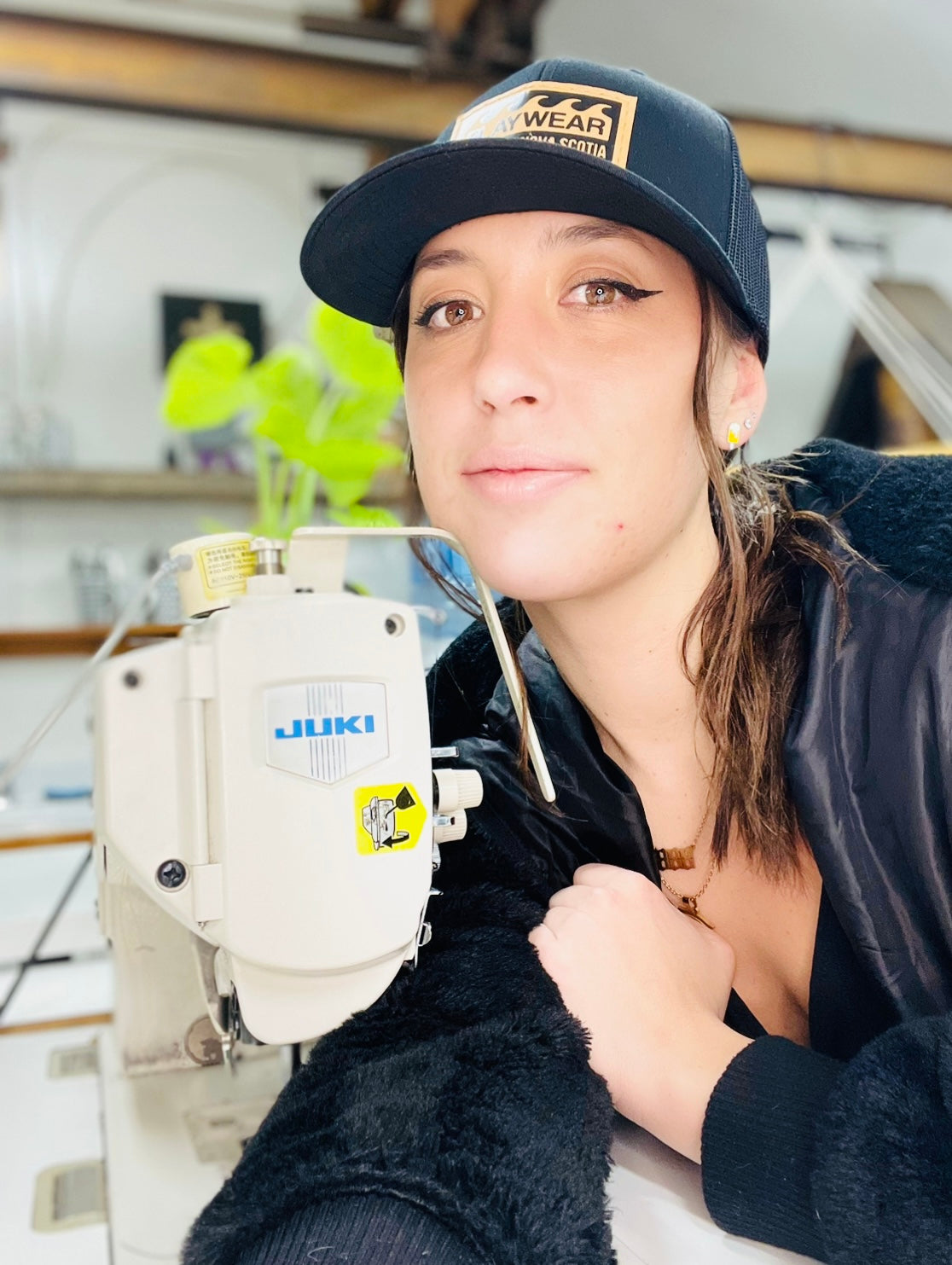 LIVIA DAVIS
DESIGNER | 150 TON MASTERS | SAILOR
I am a lifelong seamstress and sailor who went to school for both before dropping out of the former to make a career of the latter. After 10 years at sea, I chose to flip the script. Now, even though fashion design is what I do to live, sewing and sailing will both always be what I live to do.
PLAYWEAR reflects everything that has and does inspire me; my upbringing, my environment, how I work, and of course, how I play. But I am always happy to wander outside the boundaries of those boxes and give my brand room to evolve.
Contact
ABOUT PLAYWEAR
Canadian life on land and sea, styled in urban and marine wear.
Playwear was founded in 2019 in Chester, Nova Scotia, the village where I was raised and once again call my home. My roots run deep here. It's where my love for sailing and sewing began, and a natural choice for Playwear headquarters. 
But this brand's story begins long before 2019. The truth is, Playwear has been trying to break out of my head and into the market for years. Of course, it didn't always look the way it does today, and for the majority of my teens and twenties, it existed mostly as hypothetical designs and business plans. But something has always been there, waving at me, begging for my attention. So, when I graduated, totally unprepared to do anything with my ability to sew, I did what any unsure entrepreneur would do - I went quietly in the opposite direction, which for me, was Nautical school.
I spent five years at sea before finally enrolling in the Nova Scotia College of Art and Design and still the timing was off. I left and returned to the water, a decision and detour that ultimately pushed me back to sewing and gave this brand life.
Professional sailing turned out to be my safety net, which is funny when you think about how absolutely dangerous it is working hundreds of miles from shore. I have always been much more vulnerable in my creativity, and pursuing design and establishing my own business is what really scared me. All that back and forth, that's what my life looks like when I'm afraid to fail. This is what my life looks like when I'm not.
At the bare bones of Playwear is a pursuit of happiness enriched by the experiences I gained along the way. Each urban and marine collection is a tribute to the coastal beauty of Eastern Canada and the durability of its communities, with inspiration drawn from so many of the Maritimers I know and love who are strong, who are cool, and who are conscious of this cherished environment. The resulting products are made to be worn, weathered, and most of all enjoyed. You can do it all with Playwear.